NYSUT Member Benefits
NYSUT Member Benefits Trust was established for the purpose of endorsing and monitoring quality, competitive insurance plans, investments and benefit programs. These programs include discounts on travel, car rentals, mortgage services, consumer guides, insurance and much more. These programs and services are available to NYSUT members and agency fee payers. Some are also available to or cover spouses/domestic partners of members, dependent children, dependent parents and grandparents. In addition to the regular menu of benefits, certain programs are available exclusively for retiree members. Additional information from NYSUT Member Benefits can be found at NYSUY.org.
Spring 2018 issue of Member Benefits E-Direct
electronic newsletter now available!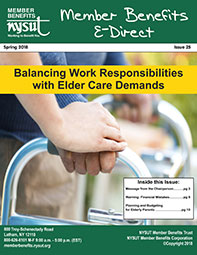 MAP Alert members are the first to view the latest issue of our Member Benefits E-Direct electronic newsletter.

Click here to view this e-newsletter!

The increase in the average lifespan of humans has created some significant challenges, including millions of Americans attempting to balance work responsibilities while raising their children AND providing care to aging loved ones increasingly dealing with chronic illnesses or disabilities. The feature story of the Spring 2018 issue of Member Benefits E-Direct examines this topic in depth.

This issue also includes a variety of helpful financial articles along with information about our newest endorsed program.

We hope that you enjoy this publication; it will be added to the Member Benefits website next week.

To learn more about Member Benefits-endorsed programs & services, visit the Member Benefits website at memberbenefits.nysut.org or call 800-626-8101.
---
About MAP
Thank you for joining MAP, NYSUT Member Benefits' Member Alert Program. MAP Alert members receive emails from Member Benefits and providers of endorsed programs. NYSUT Member Benefits does not give, sell or otherwise transfer addresses to any other party for the purpose of initiating, or enabling others to initiate, email messages.

Please be aware that many employers and government entities block bulk emails, so if you have supplied a work email address to receive MAP Alerts, your employer's system may at any time block these MAP messages.
For information about contractual endorsement arrangements with providers of endorsed programs, please contact NYSUT Member Benefits. Agency fee payers to NYSUT are eligible to participate in NYSUT Member Benefits-endorsed programs.
To access NYSUT Member Benefits' general Privacy Notice, click here.
NYSUT Member Benefits, 800 Troy-Schenectady Rd., Latham, NY 12110
To opt-out of these email communications, please use the unsubscribe link below.
Paid Advertisement